" T r a n s f o r m a t i o n s :" (see photos) (see reviews)
"TransFormations" is an original one-actor show about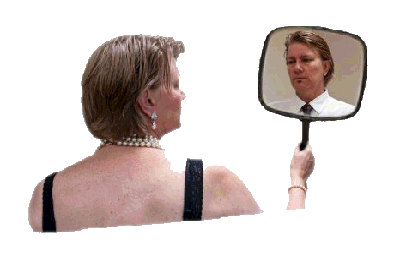 transgender lives and stories, conceived and written by Martie van der Voort and performed by Martie under the direction of Tom Slauson.
The concept for this play was developed over two years through her personal research, advocacy work, friendships, and formal interviews with members of the transgender community.
Transgender people are often misunderstood and maligned. "This work celebrates the humanity and resilience of this community, while exploring more universal issues of people grappling with identity, transition, self-acceptance and relationships," says van der Voort.
Format: the play's sparse setting is a support group meeting, chairs set in semicircle, and van der Voort plays eleven characters within and outside the group. The audience members are included as new group members. As a one-actor show, it is primarily monologic, with short dialog in the transitions, and two improvisational sections, which the audience initiates by writing down questions they may have for the group members, and putting them in the "Ask-It Basket." The run time is approximately 1:40, with one intermission.
History: it was first workshopped with people from theater and transgender communities, then had a reading of a few characters at the International Foundation for Gender Education in Tucson, and a performance of some excerpts at the Univeristy of Arizona's Transgender Awareness Week. A single weekend run was self-produced in the Cararet Theatre in May, 2009.